Well that was a late night! I thought after writing yesterday's blog that the evening might have some more action to behold & sure enough I wasn't wrong. Once we all congregated in the restaurant for supper (at about 23:30), the chat started to flow particularly from the relay guys who were still feeling the effects of caffeine & adrenaline given their race hadn't started until just before 21:00.
Jenny was in good form posing for photos with her trophy (as was Nigel, her husband obviously proud of his wife's achievements!!) & Goldie was toasting the end of her season as we all made our way through to the bar. Helen & I had a good catch up on her news since we last saw each other in Font Romeu, whilst Pedro was chatting to the Greek jumper who had medalled earlier in the evening...unfortunately whilst my German & French are functional, my Greek is not, so they could have been talking about the Greek economic crisis for all I know!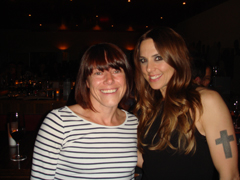 Fresh from the closing ceremony, we were then joined by Sporty Spice a.k.a. Mel C (sorry, I don't know much more than that as I wasn't a Spice Girls fan but I am sure she does have a second name beyond just "C") who was chatting about her success in Germany, Switzerland & Austria, as well as her upcoming tour to promote her new album. I have to say Mel was very pleasant & really interested to hear more about the Diamond League experience from the girls in addition to getting their thought on the Olympics & posing for lots of photos with them all.
Even Pedro couldn't resist the temptation to get in on the action as I turned in a budding David Bailey performance behind the lens!
Once the girls retired to bed, the banter adjourned to the foyer seating area where Asafa Powell was holding court with other Jamaicans & some of our guys were relating stories of adventures past.
As the hours ticked by, the adrenaline started to slip away & tiredness pushed me to bed too...all in all though, a great night & a fantastic end to a memorable experience.