After working from my hotel room throughout the day yesterday, I crossed Zurich on the rather efficient tram system to the Seefeld area of the city (apparently "The Place" to live in this part of the world). My friend, Claire has lived here since she moved from London about 6 months ago & now works for Mann Investments in their Pfaffikon offices along the lake from Zurich. When I first arrived in the English capital in January, Claire kindly offered to let me couch surf at hers whilst I found a place to stay in the weeks I was working in London & so it was great to visit her, catch up on her new life & also be reunited with my old friend, the sofa, in a more spectacular venue!!!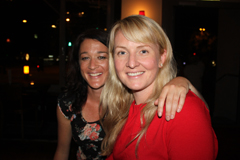 After catching up on the most important news, Claire, her friend Jacquie (also visiting town for the weekend) & I ventured to an area of Zurich, apparently described as "edgy" by her colleague (I don't think they must have been to parts of north London!), to a converted warehouse that now hosts a superb restaurant & rather classy bar. After some fantastic food & a bottle of rather exceptional wine, we headed back to Claire's to watch Scotland's opening match of the Rugby World Cup in New Zealand against Romania, which kicked off at 3am Swiss time.
Unfortunately, I was the only one able to stay awake to watch it & after a rather nervy second half & some strong Romanian front row play, I was questioning my decision. However, after a couple of late tries, we managed to open our account with a win & a bonus point.
After a short lie-in this morning, the sun beamed through the blinds & we were greeted to a glorious summers day. So, the girls prepared a picnic & crossing the road we entered the local lido on the banks of the lake to spend the day swimming, eating & sunbathing along with hundreds of locals making the most of what could be the last proper summer's weekend.
I confess that it reminds me of my time in Geneva when Heikki & I used to head down to Lac Leman in the summer to train in kayaks or swimming & doing circuits on the floating jetties. Honestly, I miss this way of life a lot - the scenery is breathtaking & the Swiss are an active race that love to be out in the lakes, walking in the mountains or cycling through the countryside...I admire them immensely.
Tonight, the plan is to visit the Old Town & as I have been updating you all on my news, we are now late for going out...so enjoy your Saturday evening & check back soon!