What a day! Flat out but great fun & after a quick shower am shortly heading to meet the guys for some well earned food...it seems ages since lunch!!! So to recount my day in some semblance of order...this morning, Pedro & I set up camp in a corner of the medical area set aside in the hotel & worked through the vast majority of our athletes to get them in the right frame of body & mind for this evening. Good banter was flowing, with everyone in great form & I picked up one or two cheeky treatment techniques from Pedro as well (a varied soft tissue background including a 3 year part-time shiatsu course), which is always a bonus...
Then after lunch, a quick check of the bags & review of the morning's work (clean bill of health for all concerned), we headed off on an specially scheduled epic tram ride from our hotel near the airport, through the centre of Zurich & to the rather impressive venue that is the Letzigrund Stadium. Despite being a couple of hours prior to the opening ceremony, the place was packed & there was a real buzz about the night.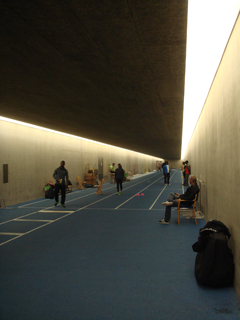 Pedro & I quickly turned amateur meteorologists & decided setting up camp at the end of the indoor track, which had been assigned as a warm-up area, was the best idea as rain looked a distinct possibility. The area rather resembled a huge nuclear bunker but sure enough, the athletes chose the protection from the elements & to warm up inside as opposed to slipping on the grass outside.
As we started to welcome a few of our athletes, a few familiar faces also passed by including 5km World Silver medallist Sally Kipyego & her team-mate from the Oregon Track Club, 3,000m steeplechaser Ben Bruce who had both been out in Font Romeu earlier this summer. Then before we knew it, the place was wall to wall & we were earning our corn providing a conveyor belt of athlete preparation! Good chat continued through the night & in the odd quiet 10 minutes either Pedro or myself were able to take the opportunity to catch a glimpse of the action in the stadium.
Sure enough the crowd lived up to their reputation & our guys were loving the atmosphere. It would take me time I don't have just now to run through all our results & those of high note but click on the Diamond League link below to browse through the stats at will: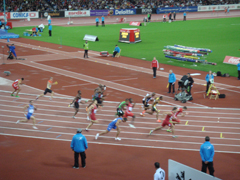 Two performances of note, however,that deserve mention. Firstly, Jenny Meadows beat Caster Semenya into 3rd place on the night & with that result was crowned women's 800m Diamond League Champion, winning a big trophy & a rather nice cheque for several thousand dollars...a good day at the office & a well-deserved bonus for a season of hard work. Secondly, the 4 x 100m relay team (left) was caught on the line by the Jamaican team but managed to hold on to second place with a performance notable for great second & third legs by Craig Pearson & Marlon Devonish respectively.
Well done guys & now let's have some fun!!!