Medals on the table! Desiree "Legs" Henry just took care of business down at the track in breathtaking fashion - 3 PBs in a row has just shown how, even at the age of 15, she has been professional enough to TCB (take care of business), then get straight back to the hotel, start her recovery & then prepare to go again the next day. She has made my job very easy despite this being her first time at a major championships where her races last over a 3 day period because she listens to what her coach, Mac & I have advised in that respect. Jessica Judd also highlighted what a fantastic prospect she is with a hard fought bronze in the women's 800m final - despite everything the field threw at her, she had no plans to let a medal opportunity slip by. Meanwhile, despite the boys 1,500m final being dominated by the Kenyans & Ethiopians, James McMurray just broke Steve Cram's GB youth record that has stood since 1977...with yet another PB!
I am now packing up the medical room & getting ready for an early morning departure, whilst Will blogs his last entry to www.OliverFinlay.com - thanks mate, you've been a great contributor! So without further ado & for the last time, until the next time...Mr P, tell us about what you saw today!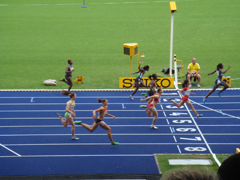 Another monumental personal best propelled Desiree Henry (coach: Mike McFarlane) to the second gold medal for the Aviva Great Britain and Northern Ireland team at the 2011 World Youth Championships in Lille, France. The Enfield & Haringey athlete set a new World leading performance with a time of 23.25s - more than half a second from the British sprinter's PB before the Championships, and ensured a great finale for our team as the Championships came to an end under a finally sunny sky.
Posing with a giant Union Jack flag together with her coach, Henry expressed all her satisfaction for a stunning performance which left Canada's Christian Brennan and Shericka Jackson of Jamaica well off the British athlete, acknowledging the massive influence McFarlane had in shaping this success.
"I would say all of this is due to him. Since I joined him, I have progressed in a way I didn't think possible in such a short period of time. I do really want to thank him for all he did for me, I am so grateful."
"I was not totally surprised by my performance as I knew I could do PBs in the earlier rounds and, once in the final, the quality of the field would bring fast times. I am in great shape and I am really pleased about my performance. I am so happy to be Champion."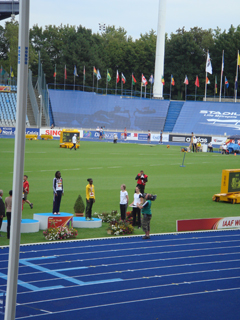 Henry, who was introduced to McFarlane by previous coach John Denford and is the youngest athlete in the Aviva Great Britain and Northern Ireland team at 15 years and 10 months of age, looked back at this extremely successful campaign.
"Not only I could come here and get this amazing experience, I leave as World Champion. It made me grow so much as an athlete. I am fifteen, I may be less experienced than others as an athlete, but this showed me that once you are on the start line, it's anybody's game. I have the heart for it and the correct mindset, I wanted this so bad."
The next two years will be crucial for Henry as she seeks to establish herself in the world of sprinting. "The Europeans, I'd love to do them: there is such a high standard there. I have to focus on keeping my form, I am going to be older and I will need to raise my game. If I am ready to do this, then I am just going to see how I cope."
With the celebrations in the British camp just starting - the whole team was present at the Stadium Lille Metropole today - an exciting 800m final added to the jubliation as Jessica Judd (Jeremy Freeman) made her way through a really competitive field to snatch third place from World's top rank Amy Weissenbach on the finish line. In a race that also featured Katie Snowden (James McDonald), Chelmsford's Judd stuck with the five-strong leading pack, occupying top spot for most of the two laps. As the final 200 metres approached, USA's Ajee Wilson powered ahead to edge past second placed Chunyu Wang of China; Judd was just a fraction of a second behind, fending off a desperate attempt by Weissenbach to clinch a precious bronze medal in 2:03.43.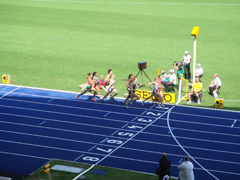 Snowden, who for 600m raced with the leading group, paid the price for the energies consumed and was overtaken on the finish line by Alem Gereziher and Manal El Bahraoui to finish seventh with a time of 2:05.64.
"I started in lane eight and I couldn't get in past lane 3" said Snowden, "I had to go wide all the time and I was left in the back. This has surely been a good experience for the future, I have learnt so many lessons that will help me."
A visibly emotional Judd, barely containing tears of joy for a medal that, with 25 metres to go, seemed to be slipping from the young runner's hands, relived her race's last moments.
"It was amazing, I was so tired in those last few metres. I saw the American in front of me but somehow I just managed to squeeze through. The time wasn't amazing but there was a lot of pushing in front. I still managed to control the race until the last 150m."
"The first lap was quite fast, but I learnt in the semi-finals that if someone was going fast I would need to sit on their shoulders and just hang on. This is what I did, I like to think that in a few years I could compete with those girls, but to come third is just amazing, I am so happy!"
The final day of competition at the World Youth Championships saw a further four British athletes competing in finals, their performances keeping with the excellent standards established in the previous days. All four set new PBs, with some spirited performances along the way.
Amy-Eloise Neale (Frank Dauncey) set a new personal best in the final of the 2000m steeplechase. Her time of 6:37.27 PB shaved more than 5 seconds off her previous record and saw her finish eleventh in a final in which Kenya's Norah Jeruto Tanui clocked a new World leading performance, 6:16.41.
"I wanted to get this PB, to get under 6:40. I would have wished it was under 6:35, but this is still good: I wasn't too far off, especially considering I raced a lot this season. The race went off a lot faster than I am used to, generally on 76-78 seconds for the first lap. This was 71 and I was in the back, so I couldn't really control the pace of the race."
"Being at the World Championship was an amazing experience. It was only a week before getting the qualifying time that I realised I could do it, and it only sunk in when I got here."
Our representative in the pole vault final, Daniel Gardner (Beth Harris), equalled his personal best of 4.80m, not clearing the bar at 4.95 and finishing a creditable eight in a competition won by Slovenia's Robert Renner.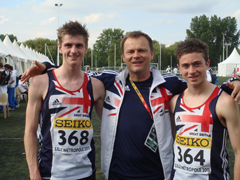 In the 1500m, Robbie Farnham-Rose (Mark Hookway) and James McMurray (Deborah Steer) battled through a field including the World's best African runners, and came out "best of the rest". McMurray demolished his previous PB of 3:51.69, finishing sixth and stopping the clock at a massive 3:46.51, while Farnham-Rose was eighth in 3:47.60.
"It is just unbelievable" said McMurray, who competes for St.Albans AC "the race was amazing, how I like it. I have to give some massive thanks to my coach for all her time spent training me, to my parents for supporting me and for coming to watch me race."
The Aviva Great Britain and Northern Ireland team brings the campaign at the 2011 World Youth Championships to an end with a total tally of two gold medals (Louisa James, hammer throw; Desiree Henry, 200m), one silver medal (Sophie McKinna, shot put) and two bronze medals (Lucy Bryan, pole vault; Jessica Judd, 800m); the team will travel back to Britain tomorrow morning for what will surely be a festive reception by families and friends waiting at home.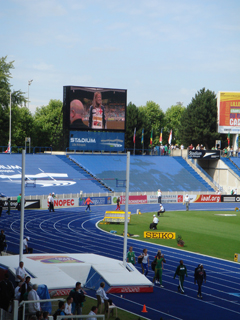 A great run down, Will, thanks again - now off to the party! One club, 2,000 people, no alcohol (the staff breathe a hug sigh of relief) & chance to unwind, catching up with all the team & those from other teams that we have gotten to know over the course of the last week. Oh, & I hear the Jamaican dance moves are something to behold...