We have more! Medals, that is...Louisa James & Lucy Bryan turned in some gutsy performances down at the track today to ensure Team GB jumped up the table. The competition within the competition of the field athletes...ie. who could provide the doping control officers with a sample the quickest has also been taken by Louisa, who beat Sophie's previous best of 6 1/2 hours quite convincingly - much to Chris Tomlinson's (team doc) relief! With a more in depth view on the day's events, over to the Italian Dragon, Will Ponissi...
Louisa James (coach: Ron James) became the Aviva Great Britain and Northern Ireland team's first World Champion at the 2011 World Youth Championships in Lille, France, as she stormed to a fantastic victory in the Girls' Hammer Throw. The Hastings AC athlete pulverised her previous personal best with her second attempt, which measured 57.13m and was destined to be the winning distance down to the thrilling end of the competition.
Teammate Kimberley Reed (Alan Bertram) achieved 53.05m with her first throw, which was to be her best of three attempts; the distance put her in tenth position, meaning she unfortunately didn't make the cut for the three extra trials.
Malwina Kopron of Poland, who had got the temporary lead with her first throw of the competition, was stuck at 57.03m, while Romania's Roxana Perie was third with 56.75m - the top three athletes contained within less than 40cm.
With the majority of the other British team athletes perched on the stands just above the throwing cage, the top three went in the last round of throws knowing a few centimetres could separate victory from agony - but Perie's and Kopron's foul throws meant celebration could start and James, teary eyed and waving a Union Jack that never looked this good, be crowned World Champion.
"It hasn't sunk in yet, I am in shock as I was only ranked ninth before today, I was a bit of an underdog. I don't know what to say" stated a really emotional James as she met with Team Leader Jo Jennings after the final. "And it was a PB, which is cool. I didn't think my throw would go that far, I thought it'd be around 55m. Who knew it would go to 57m?"
"It was very difficult to sustain it as it was only the second throw. It felt like years - I couldn't even look at the other throws, I just kept looking at the barriers around the track or the stands. I am over the moon, more than excited. I have to celebrate this."
And there will surely be celebrations in the Aviva Great Britain and Northern Ireland team headquarters, as Louisa James's gold was joined by a great bronze medal brought by pole vaulter Lucy Bryan (Neil Winter). The Bristol and West athlete set a new PB, jumping 4.10m and clinching third place on countback over Greece's Yeoryia Stefanidi and Alissa Soederberg of Sweden.
"I wasn't expecting it, at all. I am so happy - I wasn't even ranked as I came here. I was so close to clearing 4.15m but my hand slipped on the pole, that was a shame. I can't believe it."
There were mixed feelings in the two 200m semi-finals, which saw two British athletes competing. In the Girls' race, Desiree Henry (Mike McFarlane) put in a splendid performance to win in a time of 23.38s, obliterating the 23.57s personal best she had set in yesterday's heats. The Enfield & Haringey athlete looked relaxed and confident as she powered past the bend and onto the final straight, giving three tenths to her closest rival, Galina Nikolova of Bulgaria. Henry's time was the fastest of all three semi-finals, a result that highlights the British athlete's wonderful form at these Championships.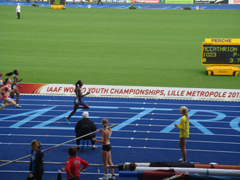 "Coming into the competition ranked fourth and entering the final with the best time is just where I want to be. I felt really good out there, I surprised myself already with these results, let's see what I can do tomorrow in the final."
"I learnt not to look at my rivals and what they do: it's only going to be me and my lane - the only ones I can beat are myself and the clock. This is me, this is what I want to do - I am going to just focus and run."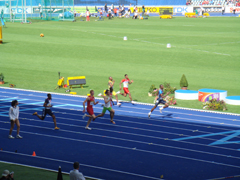 Unfortunately, Nethaneel Mitchell-Blake (Elton Coombs) failed to advance to the final when he was drawn in a very competitive grouping. The Ilford athlete finished his race in fifth position with a time of 21.61s, but was philosophical about the lessons learnt during the course of these Championships.
"It was really tough, especially when starting from lane 8. But someone has to get it, unfortunately it was me today. This experience taught me how it is to compete in track and field internationally. It is a lot harder, but I come back stronger from it."
Jazmin Sawyers (Tony Williams) finished her gruelling heptathlon with the 800m. The City of Stoke athlete set a time of 2:29.30, which brought her to a total point tally of 5296, a new personal best. Sawyers finished her seven-event performance in ninth position. Hayley McLean (Steve Mitchell) still suffered the effects of the testing semi-final of the 400m hurdles and found herself unable to answer another World leading performance by Nnenya Hailey. With the American finishing in 57.93s and five more athletes setting impressive PBs, McLean finished in sixth in 58.94s - still a great result for an athlete who declared herself surprised to have made the final starting from her ninth World ranking position.
A brave performance by Georgia Peel (Mick Woods) saw the Aldershot, Farnham & District athlete being the only one to hang on to a formidable leading group of two Kenyans and two Ethiopians. Eventual winner Faith Chepngetich Kipyegon, who set a new Championship Record and World leading performance with 4:09.48, jumped the two Ethiopians on the finish straight; Peel lost out to the top three on the sprint, but had enough in the tank to overtake Sheila Chepngetich Keter and finish fourth in 4:16.36, a new season best and only little more than a tenth above her personal best.
Great Britain and Northern Ireland now climbs to twelfth in the Medal Table with one gold, one silver and one bronze medal. In tomorrow's final day of the 2011 World Youth Championships, seven athletes will try to increase the team's tally in their events' finals. Dan Gardner (Beth Harris) will take part in the pole vault final at 3pm, Amy-Eloise Neale (Frank Dauncey) will compete in the 2000m steeplechase at 3:05pm, while at 3:30pm Desiree Henry (Mike McFarlane) will try to translate her fastest overall time in qualifying into medal form in the 200m. In the middle distance events, Katie Snowden (James McDonald) and Jessica Judd (Jeremy Freeman) will face a quality field in the 800m final at 4:30pm while James McMurray (Deborah Steer) and Robbie Farnham-Rose (Mark Hookway) will throw the gauntlet down to the Africans in a thrilling 1500m at 4:45pm.