After an early start to get the bus at 06.30, to be down at the track with Jazmin Sawyers, our heptathlete, the camp has noticed the onset of slight blonde moments! On discussing the blog with Will (Ponissi), I asked him if we could work on the blog in my apartment....to which he replied "you mean our apartment?!!!". Yep - we have now reached THAT stage of the tour. Christened by my coaching & medical team counterparts as "the delirium stage"...our hypothesis is that this stage precedes the "thousand yard stare stage" by about 4 days. As a result of this & his great work yesterday, Will has retained his job as blogging correspondent for the day! Thanks mate...see you in the lounge!
A very busy morning for the Aviva Great Britain and Northern Ireland team saw eight British athletes in action at the 2011 World Youth Championships in Lille, France. The morning turned out to be a really successful one for our team, with new personal bests being set and an almost clean record of qualification to the finals.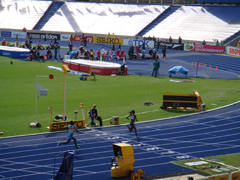 The most impressive performance, for overall results and the seemingly effortlessness of execution, surely went to Desiree Henry (coach: Michael McFarlane) who had a brilliant run in the heats of the 200m to record a new PB, 23.57s, setting the fastest time of all entrants. The Enfield & Haringey athlete was the only competitor to dip under the 24 second barrier and looked thoroughly happy after her race.
"Good performance and a PB, it felt really good. I know that if I can produce something better, or even a similar performance, I will make it to the final. I was really relaxed out there, but this is how I have been taught to run. I know that for my body, my limbs to work as I want them, I have to feel comfortable."
"I was expecting such a good performance. The preparation before went really well and to see all my friends compete gives me the sensation that I am doing well together with their good results."
Jazmin Sawyers (Tony Williams) started her day with the right foot as she clocked a new 13.87 Personal Best in the 100m. In third position with 997 points after the first of seven events, the British multi-eventer then proceeded on to the high jump, where she progressed up to 1.72, worth a further 879 points. The City of Stoke athlete closed the morning in fifth place in the overall standings with 1876 points.
Both British athletes in the hammer throw gained safe passage to the final. Louisa James (Ron James) overcame a somewhat troubled start of her qualifying round, with two foul throws in her first two attempts, before sticking the third trial and almost hitting the automatic qualifier of 55.50m. Her 55.20m throw earned her third place overall and a spot in Saturday evening's final.
"It was one of those days! I was quite nervous after the first two foul throws, I only threw properly at the third attempt and got within 30cm of the automatic qualifier - that's not bad" said the Hastings AC thrower. "The circle itself is pretty nice to throw from, it's a bit sandy but nice. I obviously hope to throw better in the final, possibly get a new PB as well."
Kimberley Reed (Alan Bertram) started her pool B performance in a similar fashion to Reed, having a foul throw as first attempt: she corrected her ways soon enough, however, recording a 54.62m with her second throw and placing herself right behind leader Hanna Bryl of Belarus in the group. The distance puts the Scottish athlete in sixth position in the overall standings going into the final round.
"I am so, so happy I made the final, especially as I was getting a bit worried when I had a foul throw first. I felt really good this morning and I was confident I would qualify - I even saw two magpies this morning and that's a really good sign for me! [laughs]"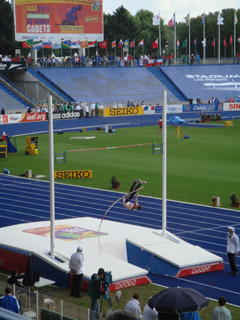 Pole vaulter Daniel Gardner (Beth Harris) entered the pole vault qualifying pool at 4.50m, clearing it at the first attempt and keeping the same form for all the subsequent 10-cm increases in height up to 4.80 - high enough for him to equal his personal best and clinch a place in the final. In pool B, taking place simultaneously, Rowan May (Peter Hill) cleared 4.35m at the second attempt before taking one jump to clear 4.50m. The next measure, 4.60m, proved to be too much for May who finished in eight position in the pool, unfortunately out of the final.
"I am also very happy that Louisa [James] made the final, now I want to get past the 56m mark and add a bit to my personal best. I would love to come away from here with a medal."
"It went really well, I feel there is much more height in me. I cleared all measures at the first attempt which is ideal" said Gardner after his qualification round. "I had a bit of trouble with the track at first, it's really different from what I am used to. It didn't cause me too many problems, I got it sorted during warm-up and after that I was pretty consistent."
"I think I got a good chance for the final: if I jump like I did today, I can jump over five metres and get a medal"
The semi-finals of the 2000m steeplechase saw Amy-Eloise Neale (Frank Dauncey) in a tough race featuring Kenya's Norah Jeruto Tanui, holder of the World leading performance, who soon built up a big advantage over the rest of the group and went on to smash her own record time, finishing in 6:20.68. Neale finished seventh in 6:46.07, gaining access to Sunday's final by virtue of her time being one of the four fastest non-automatic qualifiers.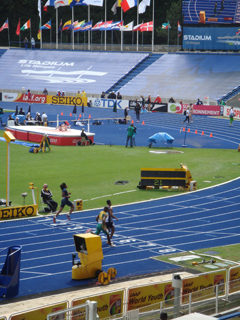 The last event of the morning saw a confidently running Nethaneel Mitchell-Blake (Elton Coombs) run 21.67s in the eleventh heat of the 200m. The Ilford athlete controlled the race and could even afford to slow down when approaching the finishing line, looking perfectly relaxed in his running.
"I knew who my competition was in the heat, and I knew how I can run. I saw I was in second position and I did enough to qualify. I am most definitely looking forward to the next rounds, I have at least two more gears in me so I can just go for it."
The afternoon session sees Jazmin Sawyers take part in the shot put and 200m as part of her heptathlon competition, Jessica Judd (Jeremy Freeman) and Katie Snowden (James McDonald) return to action in the 800m semi-finals and Zak Seddon in medal contention in the 2000m steeplechase final at 15:45.