With the first day of competition getting underway, we split our medical team cover, with Vikki Annis (physio) & Chris Tomlinson (doc) going to the stadium in the morning, whilst I accompanied the athletes who were still working their way through their training programmes with a view to competition later in the week.
Desiree "Legs" Henry was working on some 80 metre bend runs prior to her coach Mike "Mac" McFarlane flying out tomorrow; Jazmin Sawyers was putting some work in over the hurdles, whilst the Rowan May & Daniel Gardner were working on their runway speed for the pole vault competition that starts on Friday with some track-based sprint reps. The cooler weather today was embraced by Amy-Eloise Neale during her longer runs but less so by Nethaneel Mitchell-Blake who, during his warm-up did recall to me that he once did train in the rain in Jamaica...it was the same day he felt rather unwell!! Mmm, there are definite differences between Kingston, Jamaica & Lee Valley, Edmonton!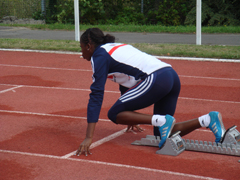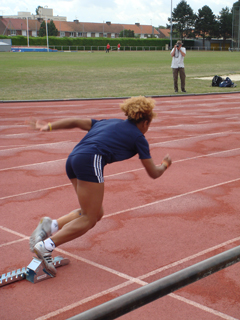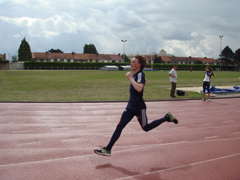 Down at the track, the afternoon continued on from where the morning session left off. After the safe negotiation of their qualifying rounds Sophie McKinna (Shot) & Nick Percy (Discus) were readying themselves for their early evening finals, whilst the 100% qualification record by Team GB (Yasmine Miller qualified 5th overall in the 100m hurdles; Will Gurton & Elliot Slade qualified comfortably with times of 1:52.80 & 1:52.31 respectively in the 800m; Georgia Peel qualified with a time of 4:19.14 in the 1,500m; & Chijindu Ujah qualified in 10.77 in the 100m) was inspiring the other track athletes. Zac Seddon clocked a time of 5:44 in the 2km steeplechase to seal his qualification to Friday's final, before Alex Boyce ran a PB of 47.82 to qualify for the semi-finals of the 400m & Hayley McLean completed the set by qualifying 3rd in her heat of the 400m hurdles.
The finals put the icing on the cake of a hugely successful day for the team with Nick Percy finishing 7th overall in the discus & attaining a new PB in the process before Sophie McKinna stepped up onto the podium to receive the first of the medals of the Games with a silver after a throw of 14.90m in the shot.
As Team Leader Jo Jennings rightly proclaimed at the end of a long but satisfying day, "We couldn't have asked for any more - all the athletes did what was asked of them & did Great Britain & themselves proud".
Let's hope the magic continues tomorrow!