The big day is fast approaching for the athletes now as most put themselves through sessions down at the practice track this morning. Desiree "Legs" Henry was looking strong & fluid readying herself for the 200m heats on Thursday with some 80m form runs; Jasmin Sawyers had a fantastic javelin session (which she is claiming is her least favourite event of the heptathlon) & left the track with a beaming smile; Chijindu Ujah & Nathaneel Mitchell-Blake did some technique work under the watchful eye of Jonas Tawiah Dodoo, with Chijindu looking forward to his 100m heats tomorrow afternoon; whilst Rob Denmark supervised the distance quintet of Jessica Judd, Katie Snowden, Amy-Eloise Neale, Elliot Slade & Will Gurton with an approving nod or two from trackside.
After lunch & an early afternoon physio clinic (top ten languages spoken in the world being one of several brain challenges for the assembled athletes & staff alike), the team headed down to the Lille Metropolitan Stade for an orientation of the track, throwing circle, warm up area, call up area & post-event area. The general consensus was that all looked good despite some slight glitches with transportation & finer details, with the ten athletes out of the blocks & across the circle tomorrow chomping at the bit!
Once I work out how to upload video clips onto this Blog platform, I will also post some interviews I did at the stadium with team coaches Femi Akinsanya, Jonas Tawiah Dodoo & team leader, Jo Jennings.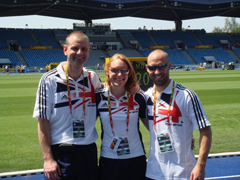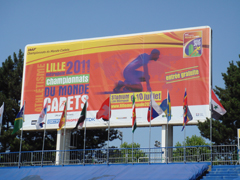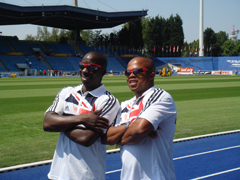 Good luck to all the athletes competing tomorrow!